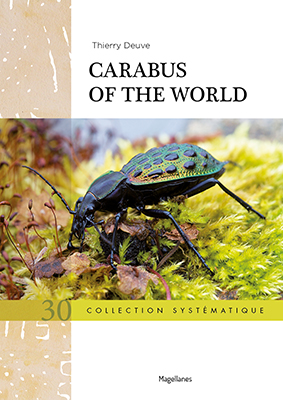 60 €
Editor:

Magellanes

ISBN:

978-2-35387-157-5
COMMANDER
COLLECTION SYSTÉMATIQUE
30. Carabus of the World
Thierry Deuve
2021
L'auteur, spécialiste des Carabes et Carabiques au Muséum national d'histoire naturelle de Paris, propose un catalogue actualisé des 970 espèces du genre Carabus, réparties dans tous les pays de la Région Holarctique. Pour chaque espèce sont donnés tous les noms des sous-espèces, mais aussi les synonymes et homonymes, avec leur statut et l'indication de leur localité typique. Les sous-genres, espèces et sous-espèces sont classés selon une classification qui reflète autant que possible leurs relations phylogénétiques.
1556 figures enrichissent ce catalogue, en particulier 114 planches des édéages de la quasi-totalité des espèces, ce qui permet le plus souvent de les identifier.
L'ensemble est précédé par 60 pages de généralités, en anglais, sur la morphologie et sur la phylogénie du genre Carabus et de ses espèces. Les travaux les plus récents sont cités et commentés comme une mise au point sur l'état actuel des connaissances. En particulier, l'auteur insiste sur les travaux d'analyses moléculaires (ADN) qui ont révolutionné la classification du genre Carabus au cours des deux dernières décennies.
652 pages
114 planches de dessins

—
The author, a specialist in Carabid beetles and Carabus at the Muséum national d'histoire naturelle in Paris, provides an updated catalogue of the 970 species of the genus Carabus, distributed throughout the countries of the Holarctic Region. For each species all subspecies names are given, as well as synonyms and homonyms, with their status and indication of their type locality. The subgenera, species and subspecies are classified in a way that reflects their phylogenetic relationships as much as possible.
1556 figures enrich this catalogue, in particular 114 plates of the aedeagus of almost all the species, which makes it possible to identify them in most cases.
The whole is preceded by 60 pages of general information, in English, on the morphology and phylogeny of the genus Carabus and its species. The most recent works are cited and discussed as an update on the current state of our knowledge. In particular, the author emphasizes the results of molecular (DNA) analyses which have revolutionized the classification of the genus Carabus over the last two decades.
652 pages
114  plates of draws